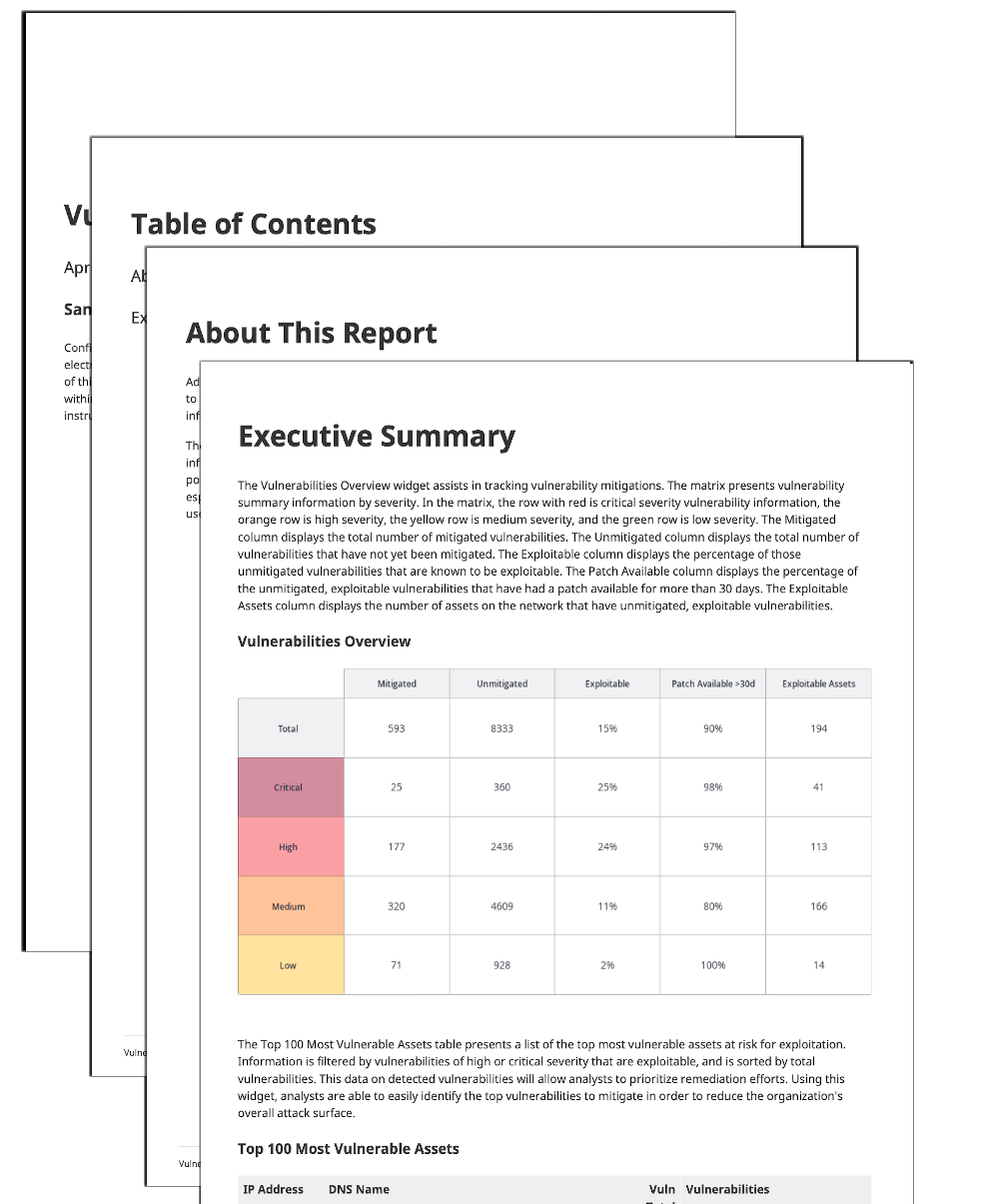 Organizations that do not continuously look for vulnerabilities and proactively address discovered flaws risk the confidentiality, integrity, and availability of data in their network. This report provides a high-level overview of an organization's vulnerability management program and helps the organization to identify vulnerabilities, prioritize remediations, and track the remediation progress.
Tenable.io records when vulnerabilities are discovered, when patches are issued and when vulnerabilities are mitigated. The Vulnerability Management report provides a high-level overview of an organization's vulnerability management program. This information helps security analysts monitor for potentially sensitive data and data access vulnerabilities on the network. Security teams can provide stronger file security and integrity protections by knowing where sensitive or valuable information is stored and identifying associated vulnerabilities. 
Organizations often need a big picture view of the current state of their assets. Individual scans and reports focus on specific areas of assessment and analysis. The vulnerability information is grouped by different focuses and needs, enabling organizations to plan a high-level mitigation strategy and ensure cyber security team members have the appropriate data for their role.
The current total number of vulnerabilities and their exploitability factor identifies current risk in relation to the total attack surface. The most vulnerable asset information enables organizations to address the most problematic assets first, and addresses the vulnerabilities that pose the greatest threat to those assets. 
Assets that are hosting internal or user data can be identified to ensure risk is appropriately identified and mitigated.
Security leaders need to SEE everything, PREDICT what matters most and ACT to address cyber risk and effectively align cybersecurity initiatives with business objectives. Tenable.io discovers and analyzes assets continuously to provide an accurate and unified view of an organization's security posture. 
Chapters

Threats to Data Access and Integrity - This chapter provides details on file security, file integrity and remediation efforts. Elements include a vulnerability overview, the top 100 most vulnerable assets, potentially sensitive information, data access vulnerabilities and an exploitable vulnerability indicator.