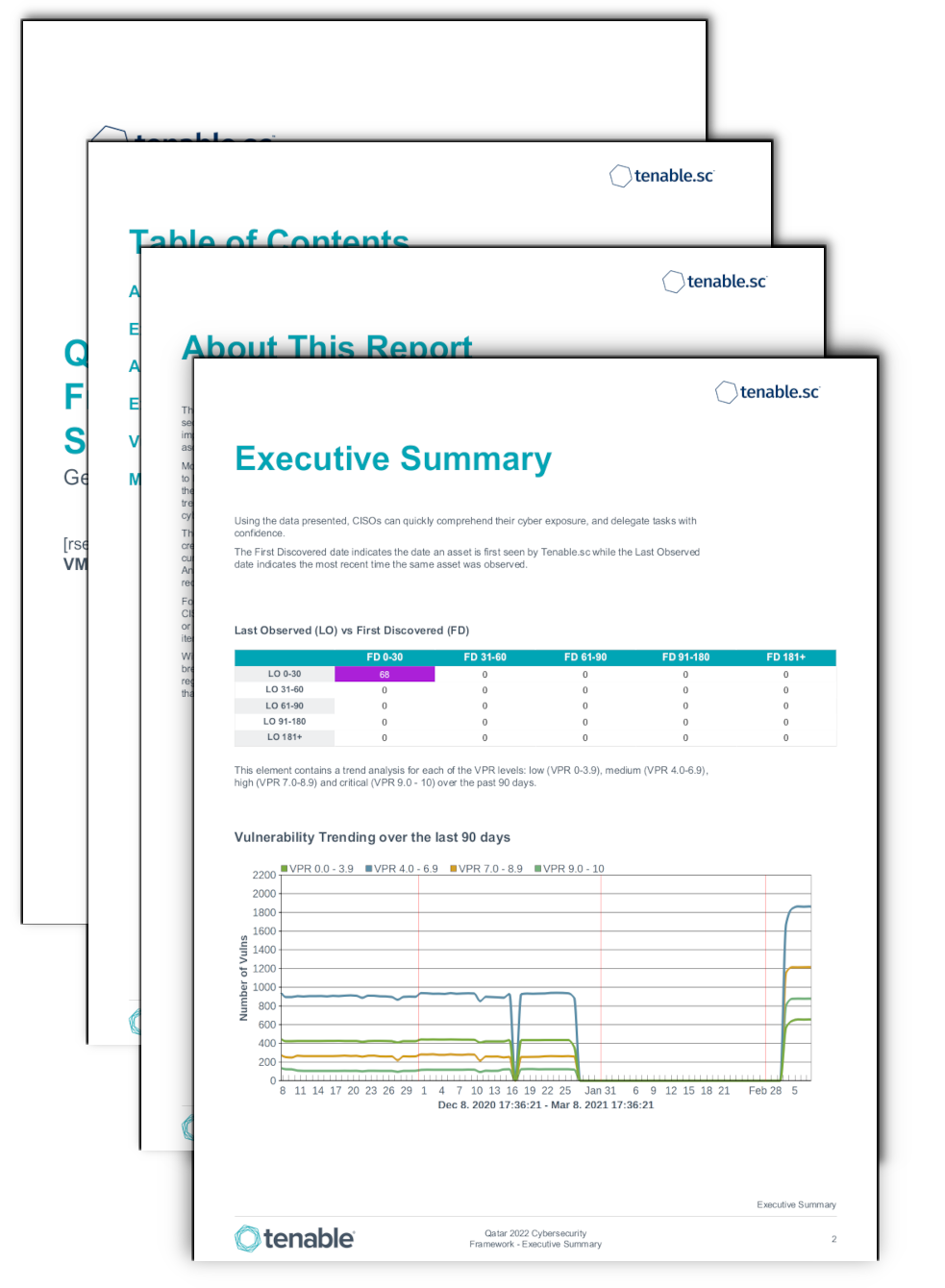 The Qatar 2022 Cybersecurity Framework, The Capability Description – Cybersecurity Governance section (Chapter 2) focuses on overall cybersecurity strategy. This report enables CISOs to have a quick snapshot of overall risk and their entity's efforts to mitigate that risk. Tenable.sc allows executives to use this report to illustrate current risk status, and the effectiveness of their IT team's mitigation efforts.
Modeled from the key Cybersecurity Governance pillars within the framework, this report is organized to focus on prevention, detection, and response related information at an executive level. Entities use this report to gain an understanding of their current risk, and use that data when identifying critical business services, or generating the Business Impact Analysis (BIA). The exploitability and vulnerability data exists to help entities map critical assets to other mitigation requirements outlined in other sections of the framework. The risk summaries given throughout this report grant CISOs a swift demonstration of their entity's dedication to the detection pillar of the framework.
The trend graphs display user data and port information are tracked for changes in trend over time. The data within the graphs represents new user and port data detected during scans. This information is used to highlight any changes to infrastructure, and for identifying potential malware issues present on the network. By displaying awareness of infrastructure changes, this report provides a clear demonstration that an entity is dedication to the prevention pillar of the framework.
The response pillar of the framework outlines how internal process tracking is needed to display whether or not cybersecurity strategies are efficient. Entities use mitigation data to compare risk mitigation timetables against internal SLAs and framework requirements. By analyzing mitigation rate data, CISOs know how well their teams are handling risk management throughout their entities.
Utilizing this report, CISOs communicate risk assessment, create management plans, and have key indicators for potential breaches. Vulnerability data, user and port data, and mitigation data, are provided to give CISOs a decisive way to display framework adherence for the enterprises that they manage. Tenable.sc provides the proper knowledge and tools, so that CISOs know that their entity's needs are fully met.
This report is available in the Tenable.sc Feed, a comprehensive collection of reports, reports, Assurance Report Cards, and assets. The report can be easily located in the Tenable.sc Feed under the category Compliance & Configuration Assessments. The report requirements are:
• Tenable.sc 5.15.0
• Nessus 8.11.1
Tenable.sc Continuous View (CV) is the market-defining On-Prem Cyber Exposure Platform. Tenable.sc CV provides the ability to continuously Assess an entity's adherence to best practice configuration baselines. Tenable.sc provides customers with a complete Cyber Exposure platform for completing effective cybersecurity practices.
This report contains:
Executive Summary: The Executive Summary provides a quick view into Qatar CSF scan and vulnerability data. CISOs are provided with a snapshot of overall risk and their entity's efforts to mitigate that risk. Using a series of matrices and trend graphs, Entity needs are quickly assessed.
Activity Summary: User data and port information are tracked for the change in trends over time. CISOs use this information to understand whether or not there have been any changes to infrastructure, or if user and port activity has spiked during scans. If drastic trend changes are present, Entities are encouraged to evaluate potential changes or breaches within the network.
Exploitability Summary: Exploitability related data is provided to help entities map critical assets to other mitigation requirements outlined the rest of the framework. Entities that are quickly mitigating vulnerabilities within their networks will see the trend line in this chapter decrease over time. By reducing detected exploitable assets, an entity's attack surface is reduced.
Vulnerability Summary: The Vulnerability Summary chapter allows the CISO to understand how patching efforts are going and provide a quick glance at the entity's vulnerability stance. The following vulnerability summaries display risk in relation to severity and priority. For vulnerabilities that are closer to the right side of their respective matrices, targeted cyberattacks become easier than vulnerabilities present on the left.
Mitigated Summary: Entities use this data to understand if their teams are mitigating risk efficiently enough to keep pace with emergent threats. If more vulnerabilities are being mitigated within the overdue window, IT teams know that mitigation efforts need to be refocused in order to more quickly mitigate risk.