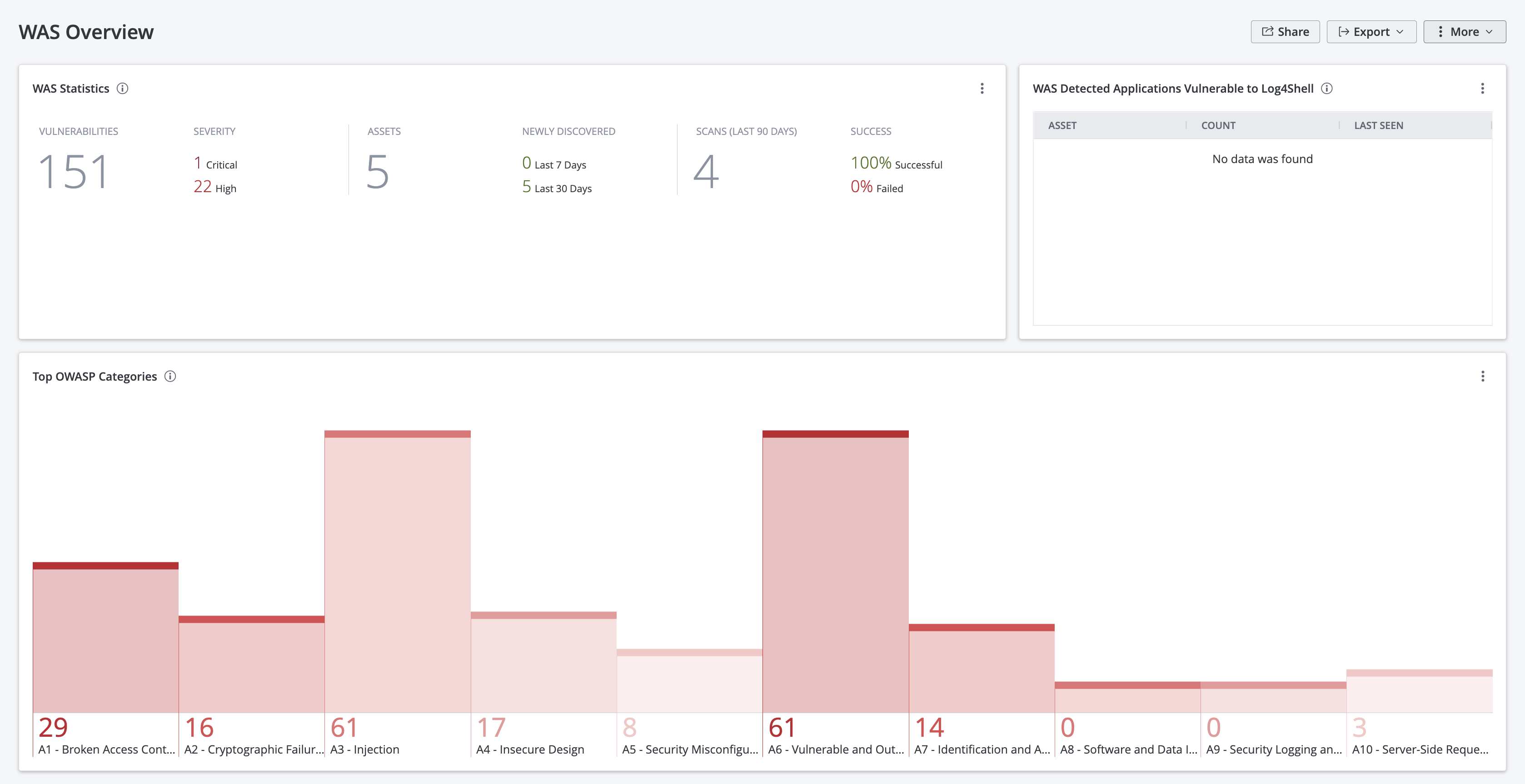 From e-commerce to online banking, the world is interconnected with web applications. The prevalence of web applications makes them a prime target for cyber criminals. Failure to secure web applications can lead to serious financial and reputational consequences. 
Tenable.io Web Application Scanning provides comprehensive and automated vulnerability scanning for modern web applications. Tenable.io WAS enables users to quickly configure and manage web application scans in a matter of minutes with minimal tuning. The WAS Overview dashboard provides a high-level summary of vulnerability data discovered by Tenable.io WAS scans. 
Tenable.io Web Application Scanning provides comprehensive and accurate vulnerability scanning for OWASP Top 10 risks and other web application vulnerabilities. The WAS Overview dashboard presents users with three critical widgets: WAS Statistics, WAS Detected Applications Vulnerable to Log4J, and Top OWASP Categories. 
The WAS Statistics widget displays a count of vulnerabilities detected, assets scanned, and scans run. The Top OWASP Categories displays a count of the top 10 OWASP categories. The OWASP Top 10 list highlights several different aspects of web-based security, such as Cross-Site scripting attacks, Security Misconfigurations, and Sensitive data exposure. The focus of OWASP Top 10 is to reduce risk across the most vulnerable aspects of web applications across the internet. Following these guidelines enables organizations to reduce risk of organizational and customer data theft. The dashboard also includes WAS Detected Applications Vulnerable to Log4J, which displays any detected applications that are found to be vulnerable to Log4J exploits.
Security leaders need to SEE everything, PREDICT what matters most and ACT to address cyber risk and effectively align cybersecurity initiatives with business objectives. Tenable.io discovers and analyzes assets continuously to provide an accurate and unified view of an organization's security posture.
Widgets
WAS Statistics: The Statistics widget provides a quick overview of actionable metrics. The vulnerability statistics provides an overview of the highest severity vulnerabilities. The assets statistics highlights newly discovered assets that may need to be onboarded. Finally, the scans statistics highlights recent scans and scan failures that may be worth investigating.

WAS Detected Applications Vulnerable to Log4J: This table presents a list of applications detected by the Tenable WAS scanner to be vulnerable to log4shell. The table uses the Apache Log4j Remote Code Execution (Log4Shell) plugin to identify vulnerable applications. Tenable recommends that these applications be prioritized immediately for remediation efforts.

Top OWASP Categories: The Top OWASP Categories chart provides executives with a summary view of the vulnerabilities that fall into any of the ten categories provided by the Open Web Application Security Project (OWASP) 2021.