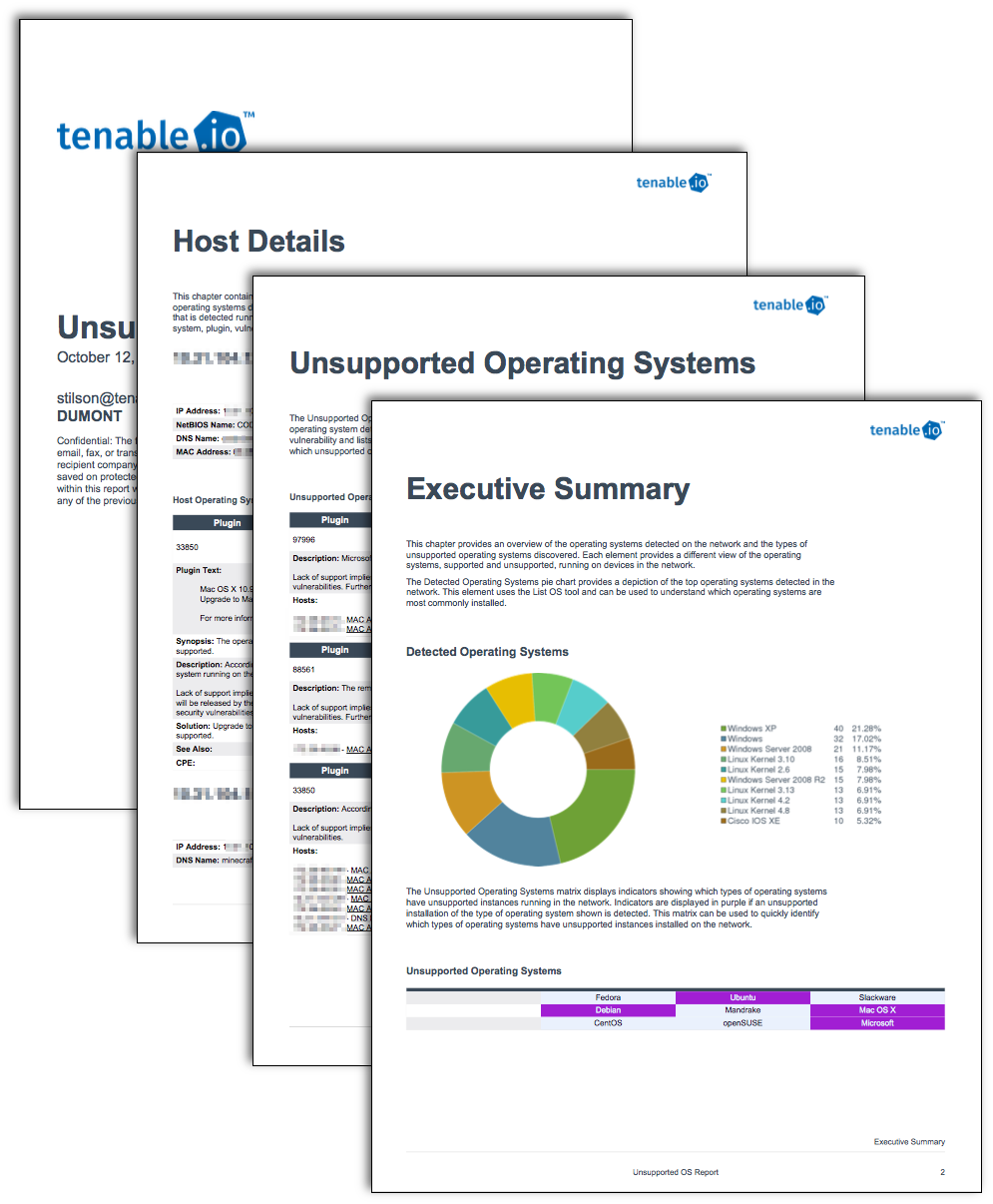 Live discovery of assets is critical when mapping your network for unsupported operating systems.  Especially when the cyber attack surface is no longer a laptop or a server in a data center.  As technology evolves, older systems will expire and mobile devices, IoT devices, and other such devices with unique operating systems we be added to enhance environments.  However, systems running unsupported operating systems are more vulnerable to exploitation and compromise due to the lack of security fixes or system patching.  Unsupported systems may be exploited for data capture, control, or as a path for access to other devices which will affect a network Cyber Risk. 
The Unsupported OS Report assists security teams in identifying operating systems that are unsupported so that security initiatives can be focused accordingly. Tenable.io plugins gather data about systems running on the network allowing for easy identification of unsupported operating systems. This report provides detailed information to SOC (Security Operations Command) analysts as well as leadership regarding systems running unsupported operating systems on an organization's network.
By leveraging the capabilities of Tenable.io, security teams can easily identify and address unsupported operating systems on a network. Real-time information provides security analysts with the ability to mitigate vulnerabilities and reduce their cyber risk at a rapid pace. Continuous scanning provides analysts with a measurement of risk associated with unsupported operating systems discovered. Security teams then use the data in this report to disregard, remove, or upgrade unsupported operating systems. The chapters in this report break down more detailed information about the unsupported operating systems and respective hosts detected by Tenable.io on the network. 
Cyber Exposure transforms security from a static or fragmented view to live and continuous visibility across every asset - whether that's IoT or traditional IT devices, cloud infrastructure or Industrial Control Systems. Cyber Exposure provides a discipline and a process for managing and measuring cyber risk against the modern attack surface. This discipline helps SOC and IT teams collaborate to more effectively and efficiently to identify and resolve issues, and provides an objective way for the CISO, CIO and business leaders a way to measure cyber risk and make strategic decisions accordingly. Tenable.io, the first Cyber Exposure technology, will provide the data, visualization, process management and metrics needed to drive a new way to manage security to reduce cyber risk.
This report contains the following chapters:
Executive Summary: This chapter provides an overview of the operating systems detected on the network and the types of unsupported operating systems discovered.  Information is displayed by a pie chart representing a count of all operating systems and the percentage of each on the network.  Followed by a matrix of systems discovered that are not supported.
Unsupported Operating Systems: The Unsupported Operating Systems table provides detailed vulnerability information about each unsupported operating system detected in the network. Components filter by plugin name and vulnerability text in order to provide the most accurate overview of unsupported operating systems.
Host Details: This chapter contains an iterator that provides detailed information about each instance of unsupported operating systems detected on the network. A list of detailed information provides insight into systems running unsupported operating systems and recommended steps to address the vulnerability.